Becoming Jane: The Iconic Actress is Heating Up Television Once Again (and She Knows It)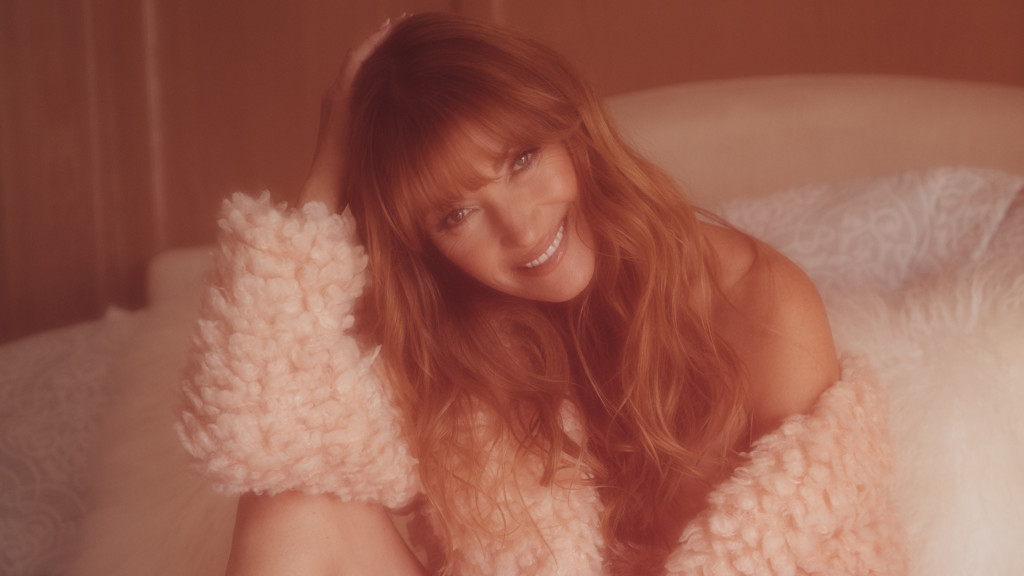 Photography by Aaron Feaver
It's the kind of epitomic, sunbaked February day in southern California that makes the rest of the country seethe with jealousy, and Jane Seymour is spending it engaged in the sort of summertime activities—wading in her pool-adjacent hot tub that overlooks the Pacific Ocean, sipping on white wine with a lunch of salmon so rosy in color Thomas Keller himself would approve—that make outsiders dismiss Los Angeles as a la-di-da bubble full of self-absorbed creatives obsessed only with their "craft," their appearances and cold-pressed juice.
They're sort of right. After all, seated in front of the marquee lights of a vanity mirror in the boudoir of her sweeping Malibu home, Seymour is getting ready for "some Academy thing." But take away the bay-window view and her pair of lovely Christian Louboutins and I might as well be helping a member of my own family get dressed. Shaking out her tawny mermaid waves, Seymour asks me, "You really think I can go with this ratty-looking hair?" I reach out to muss it a bit more.
She's padding around barefoot in the very definition of a cocktail dress—short, one-shouldered and cherry-colored—chosen for tonight's event because "red wakes me up." Seymour is handling her own everything, expertly smudging a stick of midnight-black kohl around her eyes' edges, smoothing on concealer, spilling a container of powder along the way. "You think this is too much makeup?" she queries, her British accent softening consonants into such a pleasant hum that it's more apt to call her voice a purr. "I haven't done any surgeries or injections or anything. I haven't done any of it," she says. "So I still look like 'me.' Everyday I'm kind of tempted, but then I look at people I know and I don't [recognize] them. I'm authentically being me. That's important to me."
Truth is, Seymour, who just celebrated her 67th birthday, might now be more fully embodying herself than ever before, nearly 50 years into a career that's rich with choice roles on stage, film and television. She's won critical praise, two Golden Globes, one Emmy and our hearts for her portrayals in such vastly different projects as 1981's East of Eden, the mid-1990s CBS drama Dr. Quinn, Medicine Woman, which ran for six seasons, and 2005's bro comedy Wedding Crashers.
Her ever-increasing confidence continues to manifest in unexpected ways. Currently, Seymour stars in Pop TV's ridiculously out-there new sitcom Let's Get Physical as a "godmother of aerobics." Following a middle-aged man's inheritance of his recently deceased father's gym, Let's Get Physical has Seymour playing Mom—but an ambitious, physically fit mom who isn't afraid of Spandex and sweat. In other words, Seymour's latest role is more than enough of an excuse for the actress to show off her ballet-bred, gym-maintained body. Did I mention she just turned 67?
Today, her self-described "ratty" hair represents the aftermath of being photographed for this profile—her third Playboy pictorial, having appeared in the magazine's July 1973 and January 1987 issues—wherein she effortly sowed lust in gauzy tops, the fringe of her locks falling just so. The details are in how she wears the clothes, not the clothes themselves. Indeed, Seymour is more of a sex symbol now than she was when she played a Bond girl in 1973's Live and Let Die, and—go ahead, blast this on Twitter—it's precisely because of her ability to manage a duality of talent that foolish men often claim is impossible for women to achieve: She is both hot and funny. As her work on Let's Get Physical proves, she's hotter and funnier than ever before.
"
I feel much sexier now than I ever did when I was younger. There's an enormous freedom in having lived as long as I have.
"
"I feel much sexier now than I ever did when I was younger. Then, I was like, 'Oh gosh, I'm supposed to be sexy. What is that?!'" she says, chuckling. "There's an enormous freedom in having lived as long as I have. Like my father used to say, I'm comfortable in my own skin."
Despite her protestations, that ease was present as early as 1969, when a teenaged Seymour made her uncredited film debut as a chorus girl in Richard Attenborough's Oh! What a Lovely War. On set, Maggie Smith, already an Oscar nominee at the time, told Seymour, "You're not going to be a chorus girl much longer." The Dame was right. By 1973, she'd secured international fame following Live and Let Die, which grossed more than $100 million globally.
But being a woman in Hollywood pre-Harvey Weinstein was just as, if not more, precarious. As her career gathered steam, Seymour almost became one of its casualties.
As a child, Seymour dreamed of becoming a ballerina. On her first day of school in London, her heart thrummed with excitement when a teacher told her to queue separately. How special she was!, she recalls thinking. But when the school rang her mother, a nurse, and her father, a gynecologist-obstetrician, it was because, school administrators said, their daughter had flat feet, a speech impediment and required remedial classes. Her parents decided to enroll her in ballet classes instead.
It worked. By the time she was 12 years old, she was winning dance competitions and dancing at Covent Garden. "I'm somewhat driven," Seymour says today with a grin. "My sisters would go to ballet class and then be done. I'd do ballet and wouldn't stop—in the kitchen, beach, bedroom. That's all I wanted to do. When I'd paint, I'd paint, paint, paint, paint, paint. I was abnormal. I'm not obsessive, but if I'm going to do it, I do the best I can."
Her teacher advised her to attend ballet school full-time, but her parents didn't have the money. So she wrangled a partial scholarship to an impressive arts school, where she participated in every genre of the arts, from English pantomime to singing backup. Still, ballet remained her dream. At 17, she injured herself so badly she was told she'd never dance again. Devastated, she threw herself into acting, and the prizes soon followed.
Taking the name Jane Seymour after King Henry VIII's third wife (she was born Joyce Frankenberg), she graduated and began auditioning. Casted by directors like Richard Attenborough and Franco Zeffirelli, her professional theater training began in earnest. "But then I was told by a casting director that if I lost my English accent, I'd never stop working in [the U.S.]. I told my agent in England, and he fired me on the spot, saying, 'This is the biggest mistake of your life,'" recounts Seymour, swirling wine in her glass. She moved to California with no agent, no work, no money and six months to make it.
In November, weeks after The New Yorker published its exposé on Harvey Weinstein's long history of sexual abuse, whispers of systemic assault in Hollywood turned into a #MeToo wildfire. Seymour decided to come forward with her own story on the Australian morning show Sunrise 7. It was around 1972, she tells me, when her then-agent informed her one of the industry's most powerful producers wanted her to screen test for a role. Before doing so, though, he wanted her to come to his house and watch the first screen test there. "I take a cab but no one's there," Seymour says. She watched the test with the producer, who then turned to her and said, "I've persuaded everyone that you are the perfect person to play this role. It wasn't easy. Now it's your turn."
"I said, 'Yeah, I'm gonna do the screen test,'" Seymour remembers. But the producer shook his head and kept saying, "No, no, now it's your turn. I've done this for you." He put his hand on her leg "in the wrong place" and she "did the British 'cross the leg, move down the couch'" routine, already convincing herself she could pretend it didn't happen or that he'd stop. But he pressed on. Terrified and shaking, she asked him to call her a cab.
"He put me in a car and said, 'If anyone knows you ever came here, if you ever tell anyone, ever, I'll guarantee you never work again anywhere on the planet.'" She pauses, looking me calmly in my eyes. "And he had that power. I got in the cab and cried, terrified." The next morning, her agent called and asked if she'd met with the producer. When she lied and said no, her agent breathed a sigh of relief, relaying that the producer had a "bit of a reputation."
"The only reason I've ever told that story is that women should have a choice," Seymour says. "A lot of women took the bait and lived happily ever after. My problem was that my agent knew. I was put in a situation where I couldn't show what I could do. And I'm a person who, when something bad happens, I get over it and move forward."
After the incident, she went back to England and quit acting. "I got fat. I baked bread and ate a whole loaf every morning and did needlepoint. I decided I wasn't going to do this anymore. I wasn't prepared to do what had to be done," she says. But then an opportunity arose for Seymour to play Nora in Henrik Ibsen's A Doll's House, and she took it. Her career flourished thereafter, and now here we are, some 30 years later.
"People say, 'You're like a phoenix.' No, I just had a strong role model in my mother," she continues. "Everyone will have challenges. Your natural instinct is to close up your heart and let it eat you up. Do something to help someone else. It will heal you. You'll be like a magnet when you do that. Light to firefly."
In her bathroom, however, she's again dispelling the Hollywood stereotype and re-enforcing a much more familiar one—proud mom. On the verge of running late for the "Academy thing," she's scrolling through her phone to show off photos of her grandkids and to play me a recent song from one of her twin boys, a singer/songwriter in Nashville.
I playfully suggest that her sons' friends probably agree that she's a magnet for many reasons. She's bemused by the thought and admits that yes, she does get hit on by confident thirtysomethings from time to time. "I say, 'Oh, darn, in another life.' I find that very flattering. I mean, usually you're invisible by this age!" she says, eyes twinkling. "I'm not trying to prove anything to anyone. When you're younger, it's all about 'look at me.' I'm not trying to get anyone to look at me," she says.
Earlier in the day, for one set-up, Seymour sunk into her hot tub right at the turn of the golden hour—that quick slice of the day when the sun mellows to a glow. Dipping her head back, she had the most dazzling smile on her face, the amber light kissing her face. Invisible? No one could tear their eyes away.
---
---
Let's Get Physical airs on Pop TV Wednesdays, 8:30 p.m./7:30 p.m. central.