Enter Pornhub Nation: The Sex-Positive Utopia
Written by Lisa Beebe
What would a country run by a porn website and some of its biggest stars look like? If you're picturing a place where porn is projected onto every public surface, think again. For the immersive Los Angeles pop-up art exhibit called Pornhub Nation, presidents are multiple and all women. Portraits of Presidents Riley Reid, Asa Akira, Abella Danger, Joanna Angel line the walls in more clothes than any of their public personas are used to, seemingly taking their presidential duties seriously. And that's just one room-the National Gallery-meant to predict life in 2069.
It's a world we're not used to and that's because it's a prediction for what our lives will entail 50 years from now. In Pornhub Nation, 
Donald Trump's election
 leads to global chaos and the emergence of new nation states run by corporations. It is a country that subverts America's current stance on sex and sexuality. Prudish manners are tossed out in favor of a setting that outwardly muses on intercourse and all the accessories that come with it.
For further proof, the DMV in Pornhub Nation isn't flanked by long lines and grumpy government employees. In fact, the DMV isn't the Department of Motor Vehicles at all, but the Domination Masochistic Vroomvroom. No appointment needed. As Pornhub Nation creator Maggie West likes to say, "The DMV literally fucks you." That is, instead of our current figurative reality which is far less amusing than this alternate universe where government employees stand by ready and willing to inflict the most pleasurable of pain, dressed in raunchy S&M gear. And on the walls, instead of cautionary phrases like "Don't Drink and Drive", posters share far sexier driving safety tips, like "Don't Suck Dick and Drive."
Of course, Pornhub Nation isn't the first pop-up art addition to the Los Angeles landscape. And it feels like all must have an Instagram-ready ball pit—like say, the Museum of Ice Cream's sprinkle pit or Candytopia's pool of foam marshmallows. But in  Pornhub Nation, the ball pit is actually comprised of literal balls—and no, the bright orange balls aren't a reference to Trump's genitalia. They represent the National Silicone Reserve, where the country hosts a sports competition akin to the Olympics, if the Olympics involved sex toys.
Sex puns abound in another room, which tells the story of ASSA, Pornhub Nation's space program. Order a drink at the bar and check out the space-suited mannequins going at it, surrounded by twinkling galactic-like lights, overhead. Play witness to ASSA's research goal—to figure out the best way to have sex in zero gravity. And just upstairs, observe the alien organisms Pornhub Nation's "asstronauts" have collected on their interstellar travels. Inside the black-lit terrariums, artfully-arranged, hand-painted dildos glow and blink in iridescent colors. Government scientists use these surprisingly beautiful "dick flora" to develop a drug that enables people to orgasm harder and live longer than previously thought possible—which explains why Pornhub Nation's citizens all look so young and so satisfied. Groundbreaking.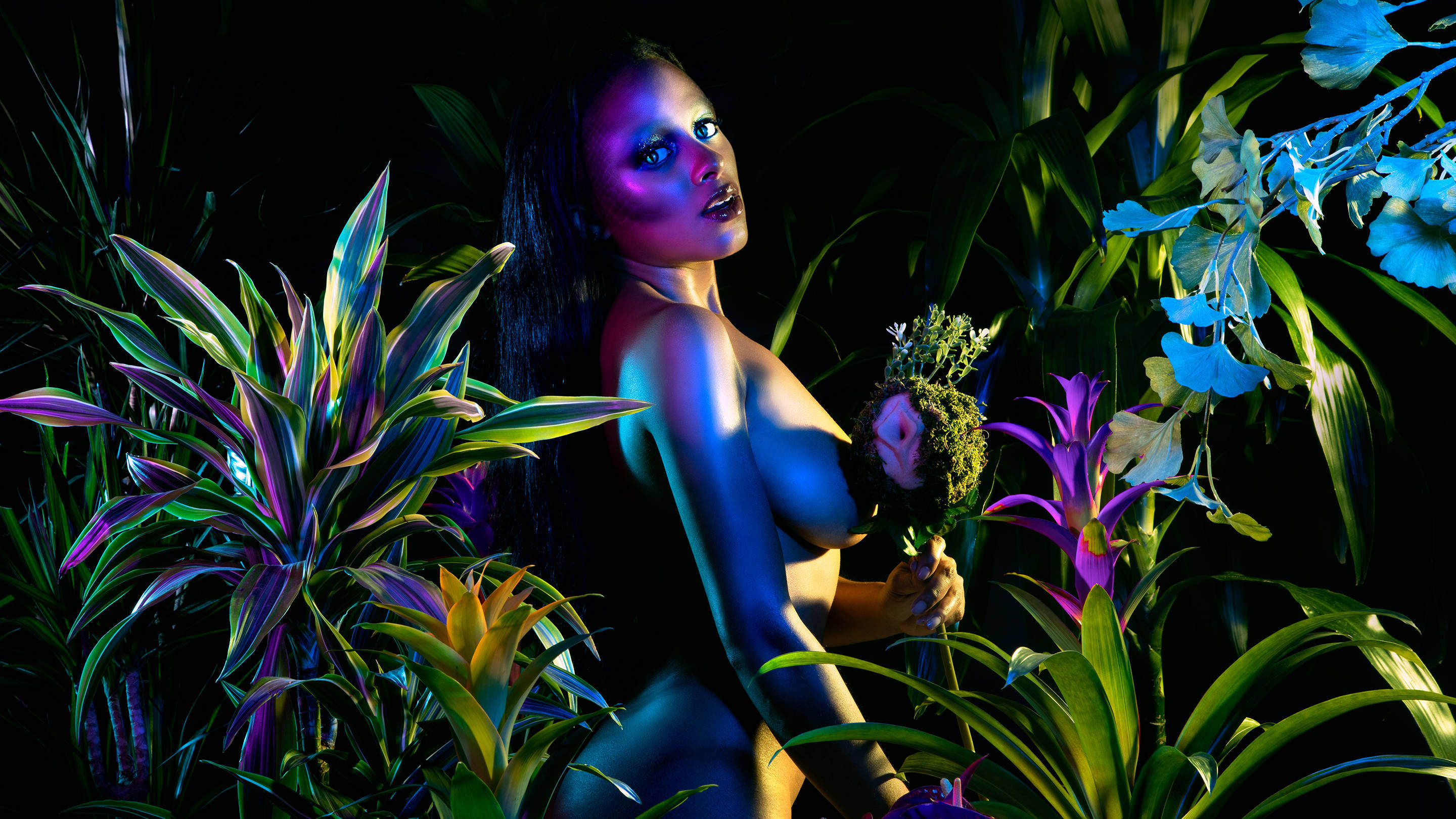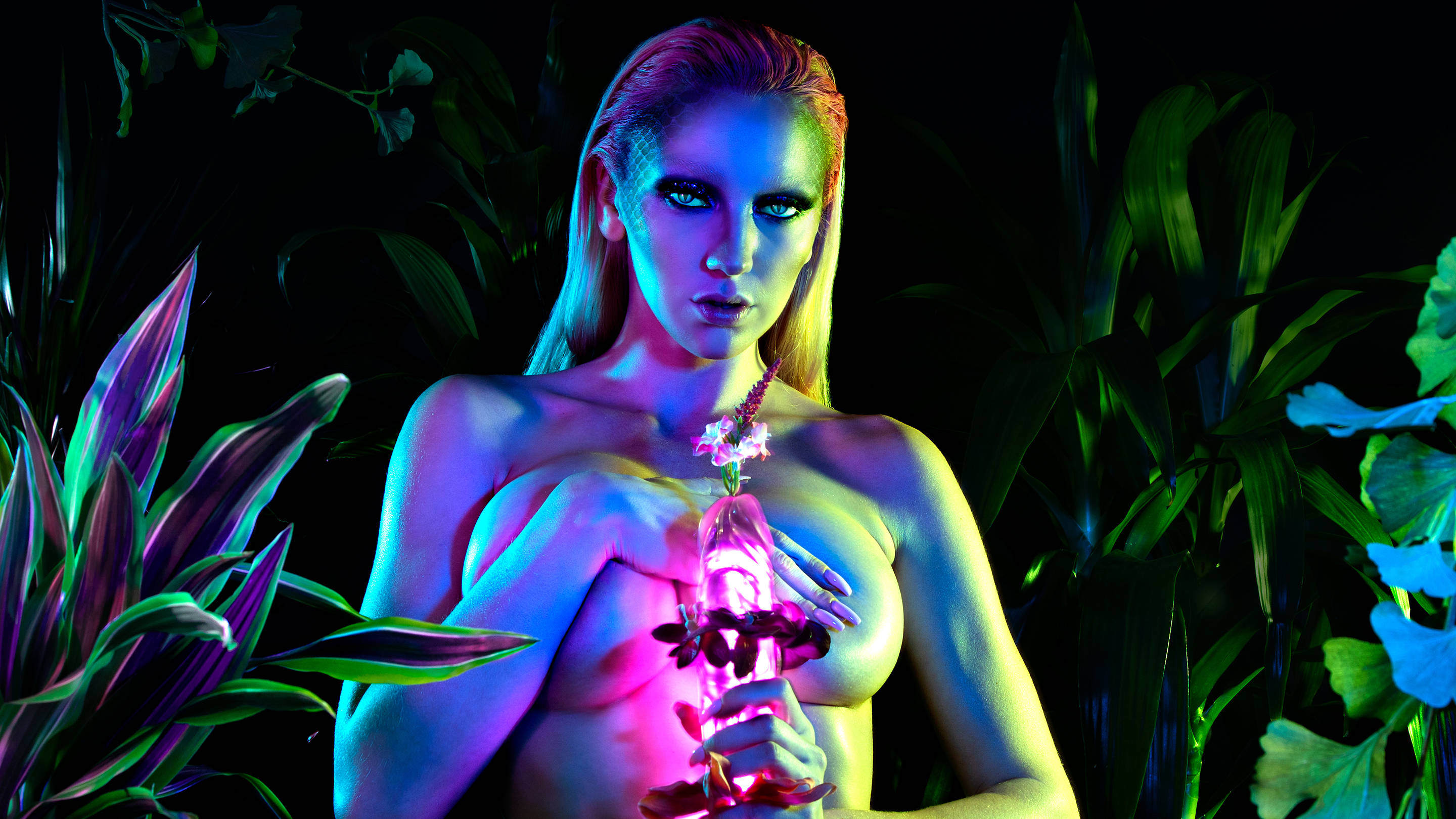 What would our nation be without the Internal Revenue Service keeping tabs on our society's spending? In this realm, the IRS is far more amusing than accounting and counting—unless you'd like to count sex toys before you propel them. Here, citizens earn tax deductions by competing at a VR game that involves throwing dildos at Harvey Weinstein's face. One thing this IRS has that is similar to America's IRS, is historical documentation.  You have the opportunity to dive into the salacious details of Pornhub's history by checking out the infographic timeline along one wall, then, step outdoors to explore the National Garden, which features yet more "dick flora" arranged in planters, and reflect on all you've learned.
It is unfortunate that Pornhub Nation—and all its 500 dildos throughout—can't become anyone's permanent place of residence. Instead, it is just a figment of West's artistic imagination come to life. But how does one concept something so genius? "I had been wanting to do a large, multi-room install for a while," West explains. "I initially had the idea of doing something like this, but it's an expensive endeavor.  I was trying to think of someone who would basically be willing to do this with me, but would also give me the artistic freedom to not, like, micromanage everything that I did." She thought Pornhub would be a good fit, so she teamed up with fellow artist Ryder Ripps, and then approached the company, who were interested right away.
West continues, "Pornhub Nation is meant to be an escape from your everyday world, because it's a museum of a fake future. I think it encourages people to imagine this bizarre futuristic setting, which I think is a really nice way to escape from daily life." She also views it as a fun way to destigmatize sex workers. She took all of the photos used in the exhibit, while Ripps handled the graphic design, and all of the models are popular porn performers. "We're showing people who are typically just shown fucking/masturbating/whatever in these roles of different futuristic people, but like, not having sex involved in that. No one's naked—they're just the president. I don't think that, in and of itself, is going to radically change the way that people see sex workers."
Overall, the public's response has been positive, although West says some people have been surprised by the lack of actual porn. "I think in general, people think it's going to be a lot more pornographic than it is. It's kind of pretty PG-13. We have a lot of dick jokes, but it's more kind of jokey satirical stuff than actual pornographic material."
"..It's just kind of bringing sex work and sex workers into the public eye in a different way," she finishes.