THE NEW BREITLING PREMIER COLLECTION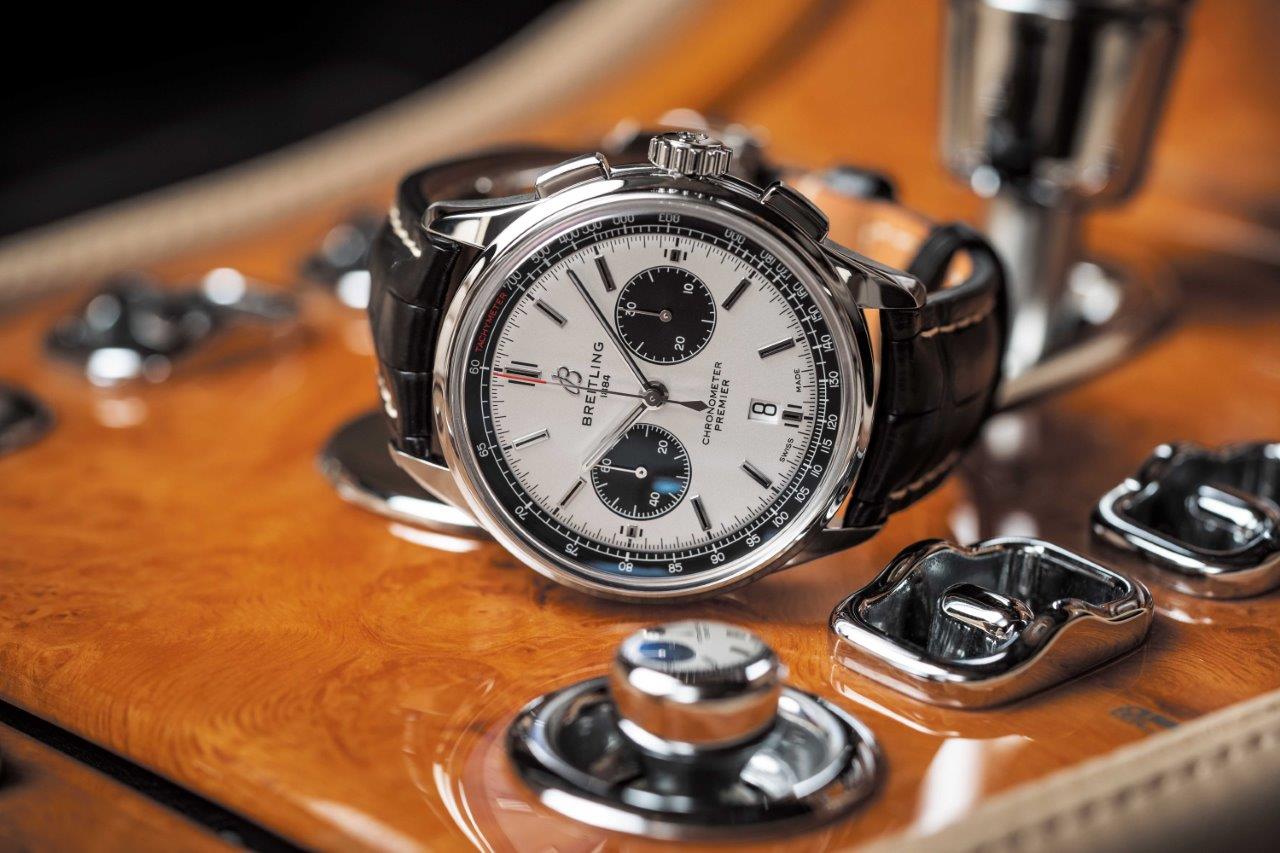 COMBINING PURPOSE AND STYLE
The Breitling Premier collection reintroduces a name that has a special significance for the prestige watch brand. In the 1940s, Breitling introduced its first collection of truly elegant watches, which were defined by their fashionable flair. The new Breitling Premier collection combines purpose with style, delivering quality, performance, and timeless design that are worthy of the watch brand's proud legacy.
The New Breitling Premier Collection
The new Breitling Premier collection introduces five distinct models whose elegance is worthy of their historic name and whose quality and performance are pure Breitling. While Breitling is highly regarded for its aviator and diver's watches, these eye-catching timepieces have been created especially for use on land, which was, of course, Breitling's first environment.
Breitling CEO Georges Kern is clear about the role the Premier watches play in the brand's product portfolio: "This is the first modern Breitling collection dedicated to everyday elegance. With outstanding quality and performance, these watches bear our unmistakable brand DNA, but they have been created with a focus on style that beautifully complements their purpose."
The new Breitling Premier collection takes not only its name, but also design inspiration from the Premier watches manufactured in the 1940s. Like the great films that were released in this era of global conflict and economic uncertainty, those watches offered a form of escape through a certain elegance that people were craving. While the collection is specifically dedicated to
Breitling's "land" environment, the design team were also influenced by some of the brand's early models.
Like the original Premier family, which was highly
regarded for its elegance, the new watches make an uncompromising style statement. The collection includes chronographs – the cornerstone of the brand's global reputation –, day and date models, and understated three-hand watches with a discreet, small second subdial.
Breitling Premier: Style, Purpose, and Action
The original Breitling Premier watches made powerful fashion statements and were perfect accompaniments to the remarkable changes taking place all over the world in the 1940s. The models in the new collection extend that legacy – they reflect the heritage and the historic design codes of a great brand, but they also express an urban flair and a passion for excellence.
They reflect a proud history, yet will never go out of style. Further, their elegance, performance, and quality are everything you would expect from Breitling, which now, more than ever, is an authentic brand for individuals of style, purpose, and action.
Premier B01 Chronograph 42

The Premier B01 Chronograph 42 models, equipped with the Breitling Manufacture Caliber 01, are the flagship watches in the new collection. Developed in-house by Breitling, the Caliber 01 has established itself as one of the finest mechanical watch movements in the world. The self-winding, chronometer-certified chronograph has an impressive power reserve of over 70 hours.
The Breitling Premier B01 Chronograph 42 is presented in a robust 42-millimeter stainless-steel case with a transparent caseback, and is available with a dark blue or silver dial. The blue-dial version offers the choice of either a blue alligator leather or brown nubuck strap with white stitching or a stainless-steel bracelet. The silver-dial model is available with a black nubuck or alligator leather strap or a stainless-steel bracelet.
The clean dial design features contrasting black subdials with a chronograph minute counter at 3 o'clock and a small second subdial at 9 o'clock, along with a date window at 6 o'clock. Each model has a white tachymeter scale on a black inner bezel around the dial.
Premier Chronograph 42

Breitling has built its reputation on its great chronograph watches, and the Premier Chronograph 42 models continue this proud tradition. Their superb performance is assured by a Breitling Caliber 13 chronometer movement. The Breitling Premier Chronograph 42 features chronograph minute and hour counters at 12 and 6 o'clock, respectively, as well as a small second subdial at 9 o'clock.
The Premier Chronograph 42 features a 42-millimeter stainless-steel case and is available with either a blue or a black dial featuring a white tachymeter ring with a black scale. This stunning Premier model offers the choice of either an alligator leather or nubuck strap with white stitching or a stainless-steel bracelet.
Premier Automatic 40

The Breitling Premier Automatic 40 is a study in understated style. Perhaps more than any other watch in the new collection, it evokes Breitling's elegant watches from the 1940s. Inside its stainless-steel case is the Breitling Caliber 37, a self-winding mechanical chronometer movement.
It is available with an anthracite, blue, or silver dial. Each dial option is available with either a nubuck or alligator leather strap or a stainless-steel bracelet. The clean dial is encircled by a white minute track and elegantly finished with a small second subdial at 6 o'clock.
Premier Automatic Day & Date 40

The Breitling Premier Automatic Day & Date 40 displays not only the time but, as its name suggests, also the day of the week and the date, which are located at 12 and 6 o'clock, respectively. Powering this automatic wristwatch is the Breitling Caliber 45 self-winding chronometer movement. The Premier Automatic Day
& Date 40 watches are available with either a black or a silver dial and feature either a stainless-steel bracelet or a nubuck or alligator leather strap with white stitching.
Premier B01 Chronograph 42 Bentley British Racing Green

The Premier B01 Chronograph 42 Bentley British Racing Green celebrates Breitling's long-standing partnership with Bentley Motors, the producers of the world's most admired luxury automobiles. Formerly presented in the separate Breitling for Bentley collection, this model and future Bentley limited editions will be introduced in Breitling's existing watch families.
Powered by the Breitling Manufacture Caliber 01 mechanical movement, which is visible through the transparent caseback, the watch has an impressive 70-hour power reserve. This watch features a striking British racing green dial and is available with either a stainless-steel bracelet or a British racing green leather strap, which matches the dial.
The contrasting subdials are located at 3 and 9 o'clock, while the date window is at 6 o'clock. Further features that distinguish this watch from all others are the engraved plate inscribed with the
Bentley name on the left side of the case, inspired by the dashboard of the supercharged 1929 "Blower" Bentley, and the transparent caseback that is enhanced with a metalized Bentley logo.
The History
In the early 1940s, most of the countries of Europe, North America, Asia, Australasia, and northern Africa were involved in World War II. In historically neutral Switzerland, Willy Breitling was creating onboard clocks for the Royal Air Force (RAF). The visionary – and clearly daring – watchmaker had to deliver the clocks to the RAF at clandestine landing fields under the cover of darkness. At that time, Breitling was already a globally established brand thanks to its timepieces for aviation and military use, in addition to its high-quality instruments for professionals.
While Willy Breitling obviously understood watches, he was also keenly aware of the era's zeitgeist. His brand had distinguished itself with its military and aviator watches in the late 1930s and early 1940s, but he was also a man of great personal style and intuitively understood that, in those calamitous times, people had a powerful desire – in fact, a need – for products that reflected a sense of normalcy and, more than that, had a touch of elegance and glamour. It is worth remembering that Citizen Kane was released in 1941, The Pride of the Yankees (a film about baseball player Lou Gehrig) was an Oscar nominee in 1942, and Casablanca won the Oscar for Best Picture in 1943.
These films, produced in the golden age of cinema, offered a couple of hours of respite from the dramatic stories in the world's newspapers. Willy was certain that a fashionable watch would also allow a form of escape from the impact of the global conflict in much the same way. Accordingly, even as the brand maintained its historic role as a producer of timepieces primarily defined by their function – chronographs for aviators and, in the words of Breitling's familiar slogan of the era, tools for professionals – Willy Breitling committed his brand to crafting elegant, stylish wristwatches for a discerning, stylish, urban clientele.
The Premier collection interpreted Breitling's great watchmaking tradition for an era in which design played a particularly important role. They were the first Breitling watches to feature the product name on the dial, demonstrating the importance of each customer's personal identification with his new Premier. The original Premier watches, with their 36- to 38-millimeter cases, were smaller than Breitling's familiar tool watches, and were often crafted from gold and presented with leather straps.
They still featured the chronograph movements that had made Breitling famous and offered the excellent quality and performance associated with the brand, but they were more at home at a theater opening or a fashionable jazz club than their military and aviation watch cousins might have been. Willy Breitling once said: "When a man puts on his watch, it is the unmistakable stamp of impeccable taste." He, of all people, would have been pleased to know that his Premier watches from the 1940s perfectly set the stage for a namesake collection launched more than three-quarters of a century later.