The Secret of the Tennis Court
with Jasmine Beibutian / @7_zhasmin_7
---
Photography by Igor Malakhov / @igor_malakhovMake up: Mina Abramovic / @abramovicm
Hair by Sergey Kamazin / @los_hair
PR by Masha Borovenskaya / @mariborovenskaya
---
The cover girl of the May issue of Playboy has become a popular model and blogger, successful self-made woman Jasmine Beibutian. Her beauty and charisma dazzles her subscribers, while her spicy body shape keeps thousands of men around the world awake at night. We decided to ask Jasmine about her favorite places to stay, interests, passion for sports and everything that was left behind the scenes during the shooting for Playboy.
---
Jasmine, looking through your social networks' pages, we can say it's clear that you are a girl who reflects the mood of the modern era, you travel a lot and visit the most fascinating places. Tell us which cities are your favorite and where they know how to throw the most awesome parties? It was a pleasure for me to receive an invitation to become the cover girl of the Playboy magazine in May. After all, this is the hottest and most interesting month of the year, when not everyone has gone on vacation yet, and many interesting events take place in the city. As for my holidays, I prefer a quiet and relaxing vacation at private Resorts in the sunny Maldives, with the private beach, white sand, and crystal-clear ocean. Another variant is exciting journeys deep into the Hawaiian tropics, where you can enjoy the privacy and beauty of nature to the maximum. Talking about parties, Tulum, Mexico is now offering the greatest and the most attractive parties. This is a country of eternal summer with stunning natural beauty providing non-standard places for events, for example, inside a large extreme park or even caves with lakes. Another place gathering people interested in loud parties is the island of Saint Barth in the Caribbean, known not only for its snow-white beaches, turquoise waters and green rocks, but also for the coolest events, which often host celebrities. However, I am more impressed by a laid-back vacation by the ocean.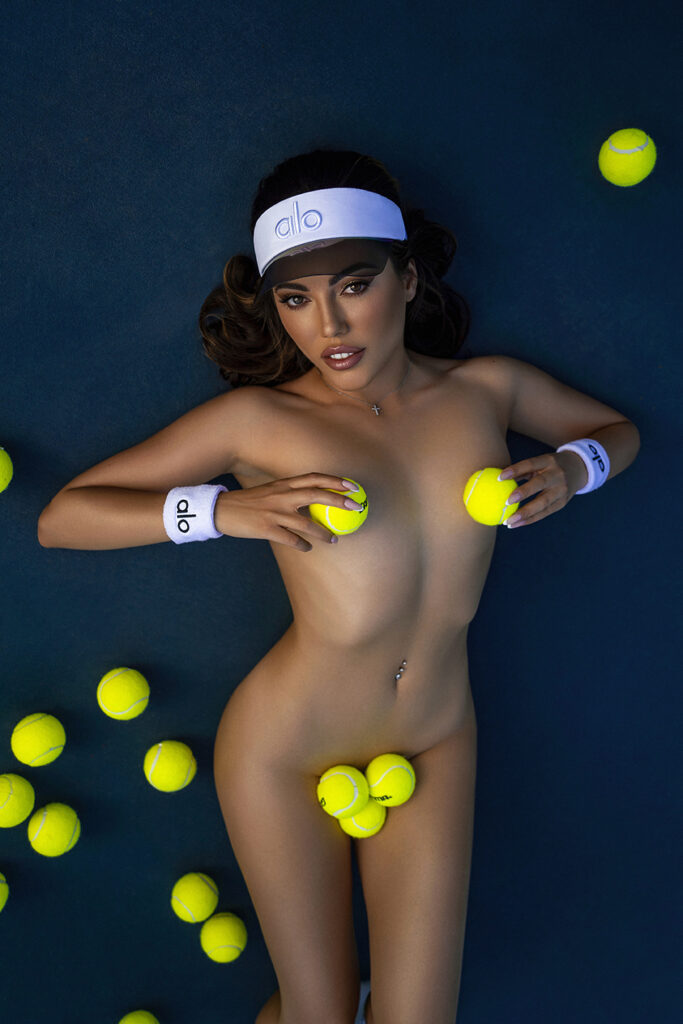 Speaking about your modeling, share with us the most difficult and exciting part of your job? I often take part in shooting, and the most difficult thing is probably to be on the same wavelength with the photographer, producer and understand what is expected of you.And the most interesting thing is to discover new opportunities in the modeling industry, to learn new facets of your personality.For a model, every working day can differ from another, because shooting or fashion show is a combination of a pleasure and a trial. Sometimes you have to forget about comfort and work in clothes not fitting the season: for example, when shooting summer collections in winter, and winter collections in summer. As for the peculiarities of the shooting process, they rather depend on the country the model works in.
Tell us about the Playboy cover photo shoot? My team and I were up to determining the concept of shooting rather long. I wanted it to reflect my charisma and personality to the maximum, as well as to satisfy subscribers not only with luxurious lingerie, but also with an inspirational idea through a little story with an interesting plot. I am a big fan of an active lifestyle and sports, which helps to look perfect. The idea of shooting was prepared just in the wake of the Beijing Olympics, all the media was full of the topic. And what if not tennis is the sexiest sport! Thousands of men are delighted with the shapes of female tennis players, and with their virtuoso and feminine game.The shooting itself took place in the capital of the world film industry, Los Angeles. Pursuing our goal, we rented the incredible location The Observatory Bel-Air with a small mansion and an indoor tennis court, where we could realize our bold ideas.And that was unforgettable experience! I admit that the day of shooting was absolutely 100% one of the best! Everything went just perfect from morning until night. Time flew by in an instant, pure delight from the work.The stylist and make-up artist had created the perfect image for me: the hairstyle and make-up were exactly the way I wanted and even better than I imagined. Photographer Igor Malakhov and me also spoke the same language that day and we were working in synergy for the single idea and a great goal. Our shooting session was for quality, not for the number of photos or images, and everything on that day was just special!
Can you reveal the secret of how to stay so beautiful and feminine and at the same time combine it with a successful career? Try to lead a healthy lifestyle and simply perform systematic actions that will result in achieving the goal. It is worth remembering that only daily efforts allow you to reach the desired success. I am a fan of the philosophy of The Art of Small Steps. It is about taking one small step in the right direction steadily day after day. No sudden movements and decisions, but constant work to change the situation. Small shifts to great results. It often seems to us that our actions are unimportant, we never decide anything. But every step counts.We can achieve cardinal changes in our appearance only with daily efforts.You also need to remember about inspiration and good mood. You can't look perfect only thanks to doing sports or skin care routine, your inner world and emotional balance are also critical.
Particular attention is always paid to your style, you have excellent taste, tell us who helps you with your outfits? I am flattered. I choose my outfits myself, I just have great taste… And I'm also modest. I guess you've noticed that by how I sing my own praises (laughs).😅
Do you have places of power that allow you to reinvigorate from a hard work week? For me, I cannot find better energy recovery anywhere but when being in silence alone.I enjoy exercising, eating healthy and going to the spa when time permits. Apart from that, I consider it important and helpful for everyone to be able to take a break from phone for a few hours a week. I have some magical feeling about living in the moment and being unavailable in my spare time.I regain my energy when visiting favorite places, restaurants, beaches, mountains, nature – all these are the places of power for me. After all, there is nothing better than something that brings pleasure!
Tell us about your dreams and plans for this year. Where else can readers of the Playboy magazine see you? I have plans to develop my modeling career. And already this summer you can see me on the catwalk of Miami Swim Week. This is the most popular fashion week, where designers present their cruise collections as well as a huge variety of swimwear. So that will be breathtaking.And in September this year, I was invited to take part in the show of one popular American designer in the framework of NYFW. Thus, along with the usual photo shoots, there will be many more shows for me this year.I was delighted to become the girl for the Playboy shooting, and who knows, maybe very soon the fans will see my new work. Follow my social networks' pages.
---
The shooting of the project was realized by a popular American photographer Igor Malakhov whose camera depicted quite a few celebrities. He commented on the main idea of the session as follows:
"We chose the concept of sport that is relevant after the Olympic Games. And what if not tennis is its most beautiful kind, with its incredibly stylish uniform. So, I decided to open the curtain on what happens during a private game of tennis. I would like the shooting with Jasmine to please the fans of the Playboy magazine."