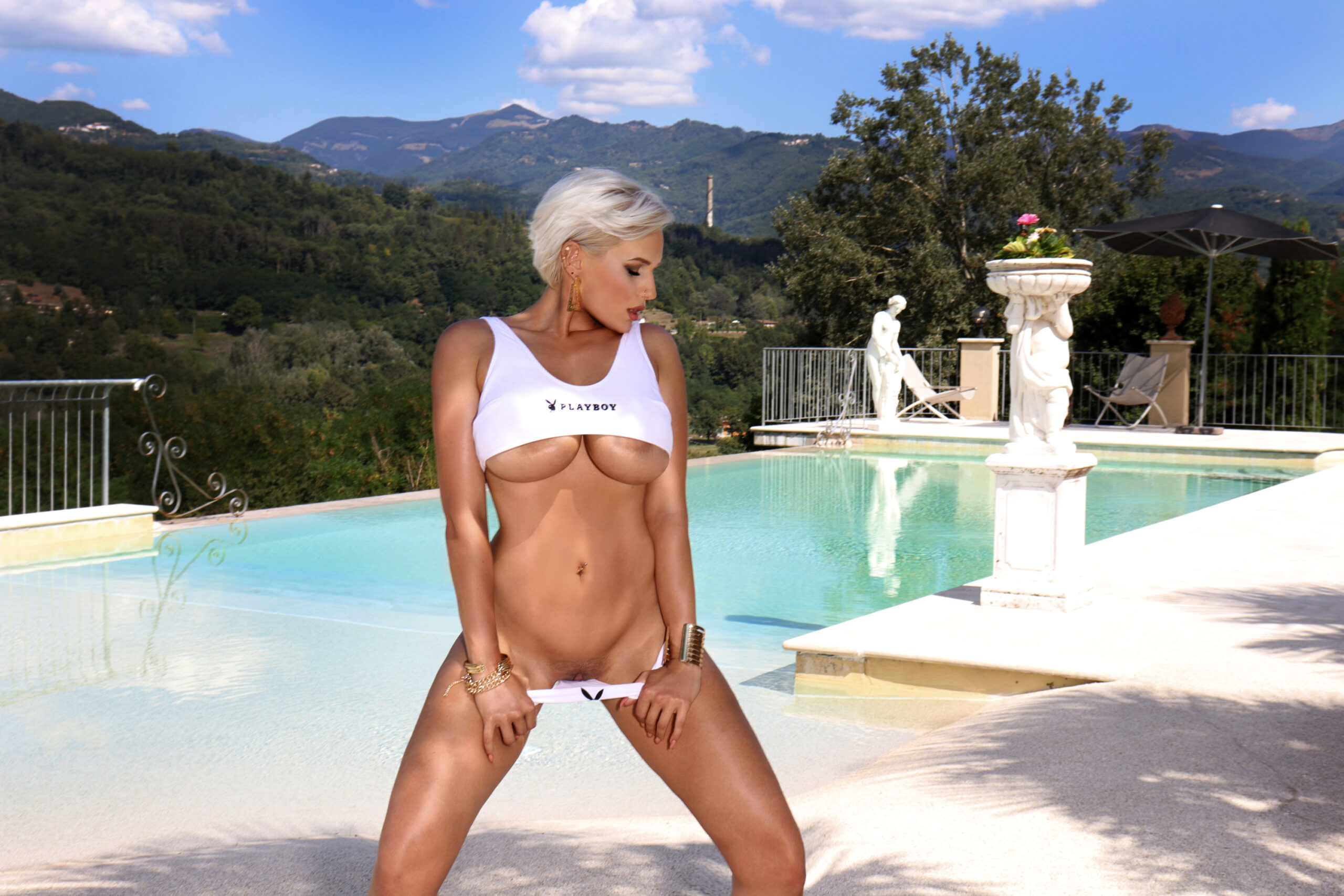 with Angel Wicky / @angelwicky
Photographer Mario Gotti | @mariogotti
HMUA Nika Done | @nikadone
Personal Assistant Renata Soukupova
---
Happy to have you feature on Playboy! Can you give us a bit of a background on your career as a model and where it all started? It started from my childhood. I was very active child who wanted to explore the world, do and try everything. I studied singing, acting and humanities. I loved singing, dancing, acting, be on stage, to be seen, show off, take photos and videos, be in front on the camera. Be creative and different everything time on every photo and video. And here I am 13 years later. Having my own business, production and creating beautiful photos and videos for people from all around the world. And loving what I do.
What are some of your best career highlights so far? This is a huge one actually. This is my 7th Playboy cover. FHM USA cover. And having my own business and production.
Social media is a very powerful tool, given your massive following, what are some of the challenges you face when it comes to marketing your brand and maintaining a solid following? Honestly? I don't really do or think about marketing. I'm just being myself. Real genuine me. Living my life, sharing it with my fans, having fun, being part of their life, connect and help each other. And radiate as much good vibes and love as I can.
Can you give us breakdown of a typical day in the life of a glamourous model? If I don't have to shoot and have a free day or I just work from home on phone/Pc my day currently looks like this: I woke up to the purring and cuddling of my little kitten, I saved few days ago. We go on toilet together, have breakfast, cuddle. Then I go to the gym and sauna, post office, shop, hairdressers etc depending on what's needed to be done. Then having lunch, play with the kitten. Doing creative DIY projects as painting pictures, making mala necklace, my nails etc. Or I go be with my horse. Brushing him, Cuddling, going out for a walk, run or ride. Having lunch/snack with me. Later afternoon cooking some yummy dinner. Cuddling and playing with my kitten. If needed I'm working on phone and Pc.
Besides being a model and actress, what else are you currently getting into? Past two and half years I'm intensively learning about physical and mental health. How our body and mind work. About nutrition, fitness, plant and herbal medicine. Healing of body, mind, energy and spirit. Helping people and animals. Spiritualism And shamanism. Communication with animals and training. I do DIY and creative projects of different kind.
Now we know there are some pretty perks that come with being a beautiful woman, what would say are your favourite ones? The attention of people, looking good without make up and styling while wearing oversized sweatpants and hoodie. It's easier to make people happy and smile when they look at you and like you.
Given that you're a stunning woman who undoubtedly gets a lot of attention, what are some of the nicest things men have done to try and get your attention? Running after me on street with flowers. Learning about stuff I care about so they can get my attention and talk about it with me (horses, food, plant medicine…). Sending me photos of stuff we have in common (their cute animals, paintings, DIY projects and creations…) or simply being kind, honest, open minded and interested in me as person, not in my looks, job or income.
What makes you feel absolutely sexy? Well, I can feel super sexy cleaning my horse's stall in in old dirty clothing, sweating like crazy and smelling like horse poop And I can deal super sexy wearing glamorous robe with perfect top notch make up, hair, nails and luxury jewelry. It's all about loving myself and being comfortable with who I am. No matter the circumstances. But sure, option number two is much better.
3 things that you can't go a day without? At the moment it is my kitten, good tea, relaxing Hindu music, communication with my fans, and family and helping them. Sunshine, hot shower.
Anything exciting we should be on the lookout for coming through this year from you? Well since I have my own business and production there will be great new things happening. And I changed my visage recently so I'm definitely excited to shoot in my new look. But honestly, I'm excited to learn more and connect more with nature, animals and humans and make the world bit better place.
Where can our readers find out more about you and stay updated with your current events and adventures? I have all my social networks onangelwickyofficial.netAnd you can chat with me, see my everyday life, production and share your life with me on my Onlyfans or Fancentro. You can see a bit of me on my Instagram, twitter (angel_wicky_ii) and Facebook.
Thank you so much for sitting down with us and letting us get to know you! Any last words for our readers out there? Aww. Thank you. Sure. I want to send tons and tons of good vibes and energy to everyone. These times and really crazy, challenging and hard. It's important to stick together, help each other and spread some love. Please stay safe and sane everyone. Your Angel Wicky.