Melisa Gun / @drmelisagunn
---
Happy to have you on Playboy South Africa! Any exciting projects lined up this year? Thank you for having me! Oh yes, I do have some projects lined up, but the one that is the dearest and most important to me is Ms World 2023. I have spent a long-time taking part in various pageants and beauty contests and winning the titles, and I have come up with the idea of organizing my own pageant, but it is going to be unlike anything that America has seen so far. It is my passion project and I love it with all my heart, and I am dedicating all my time to it right now. It will take place in Las Vegas in May this year and we will give a chance to the most beautiful and successful women to tell the world about themselves and their brands, to represent their countries and make them proud, and to show everyone that it is women – caring, tender, gorgeous, intelligent – who should be at the top of the world. So, our pageant will give them this chance, and I am so looking forward to getting to meet them all and let them shine in all their glory.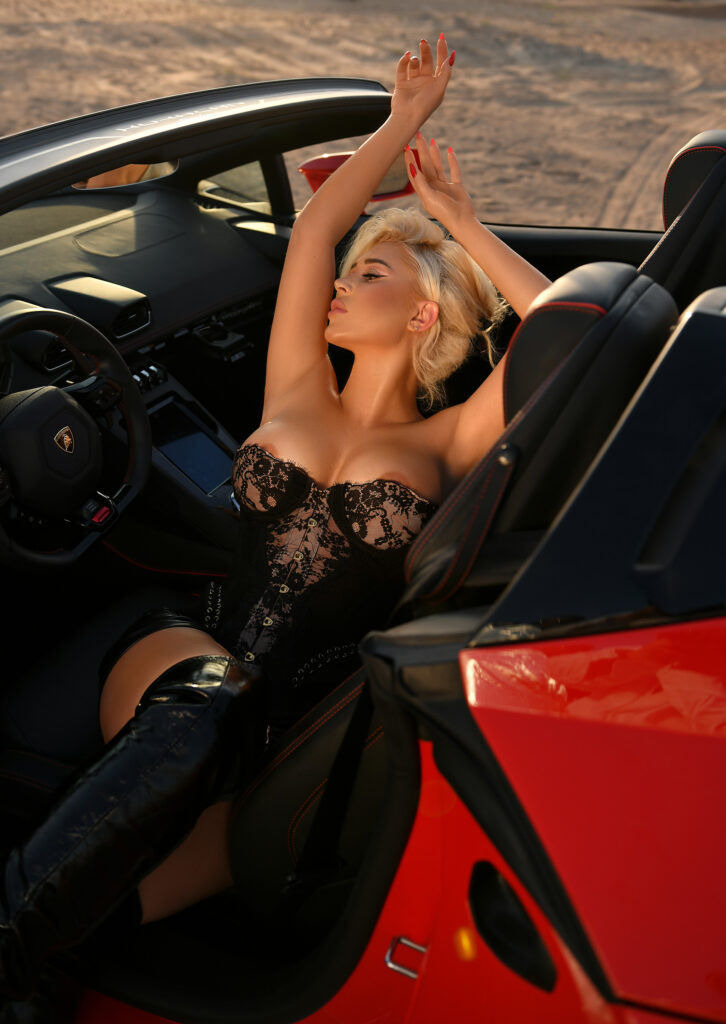 Best place you have ever been to in the world? It is never an easy choice, is it? I would say that it is Norway for me; it is the most magnificent place I have ever been to. I love the combination of tranquillity of its fjords with the buzz of its cities. I try to return there whenever I can, it helps me restore my energy and I think it is just one of the most stunning places, and it does not matter if you go to Oslo for its busy city life, history and culture, or escape somewhere in the countryside where you can just relax and immerse yourself into nature.
What are some of the biggest dreams you hope to achieve? I want to be useful. I want to be able to help people, to take part in charity activities. I suppose I would like to support and help as many people as I can and I want those people to become family, who would then help each other and those who need it. That would definitely make me fulfilled and grant me a sense of dreams coming true. 
What helps you decompress and relax? Spending time with my family. I adore them and whenever I get a chance, I hang out with my mum, sister, and son. They are my best friends and I know that I can rely on them, and they will support me in my endeavors. I also like giving myself some time off, which I spend just lounging around doing nothing for a bit. It helps me restore my strength and get back to work feeling rejuvenated. Oh, and of course traveling – I love discovering new places and revisiting the old favorites. My schedule gets crazy sometimes, but I believe that having this time off is essential.
How romantic are you? Oh, I am very romantic and I love presents and surprises and I love being spoilt because I know that I deserve it. I enjoy knowing that a man can go to great lengths to show that he cares about me and that he values me. I love being a queen and I love men who know how to treat a queen and make all my wishes come true, even if it means taking risks and making a lot of effort. All that shows that a man is serious about me. 
What is the most memorable date that you've ever had? Once I was invited by someone to a big yacht for dinner. It was in Istanbul, and we were enjoying the evening, having a nice meal and sailing. There were a lot of flowers that I adore and a violin playing just for me. And then I saw that he'd written my name on a bridge as well as that he really liked me. For me, it was the ultimate romantic evening: a wonderful setting, a lovely dinner, and a surprise that showed that he cared a lot and wanted to see me happy. I do not think I can ever forget that I absolutely loved that night.
What makes you the ultimate partner to have? I know what I want, and I know how to achieve what I want. Hard-working as I am, I know that if you are with someone, your time should be dedicated to that person. That is why when I am in a relationship, I make it my priority to love and be loved by my partner, to create the best life for us together, to share our dreams and passions, to make him proud.
Would you rather be loved, respected or admired? I do believe that I should have all three. I am the kind of girl who deserves the best and should be treated as a queen; therefore, I would rather be loved, respected and admired. If a person can give me all three, then it shows that they truly understand me and know me. Love, respect and admiration to me are like sun, water and fresh air to a flower – they help me blossom and give me energy. 
Are you a city traveler or nature explorer? Both! I love making the most of what life has to offer. I equally enjoy exploring new cities, big and small, discovering their secrets and savoring their history and culture. At the same time, I do love spending my time in nature, enjoying the peace and quiet away from the busy city life, it helps me recharge and I return to work full of new ideas and ready to set new goals to achieve.
What's on your travel bucket list? Gosh, our world is so big and wonderful that it is never an easy task to choose. I want to visit as many countries as I can in all the parts of the world, I would be delighted to travel around the globe, discovering new places, meeting new inspiring people, enjoying new experiences. There are some places that would be ideal as holiday destinations: Canada, New Zealand or Australia, South America as well!
Where can our readers catch up with you and stay updated with your work? I suppose the best place to follow me is on Instagram @drmelisagunn, where I share my recent work as well as plans for the future and updates on my current and upcoming projects. My life is very busy, so even if I do not always have time to reply, I see all the comments and all the love and I truly appreciate it. This is also where I am currently sharing updates on the upcoming pageant I am organizing, so do follow me if you want to be among the first to know all the exciting news.