Activist, Rebel, Icon: The Life of Hugh M. Hefner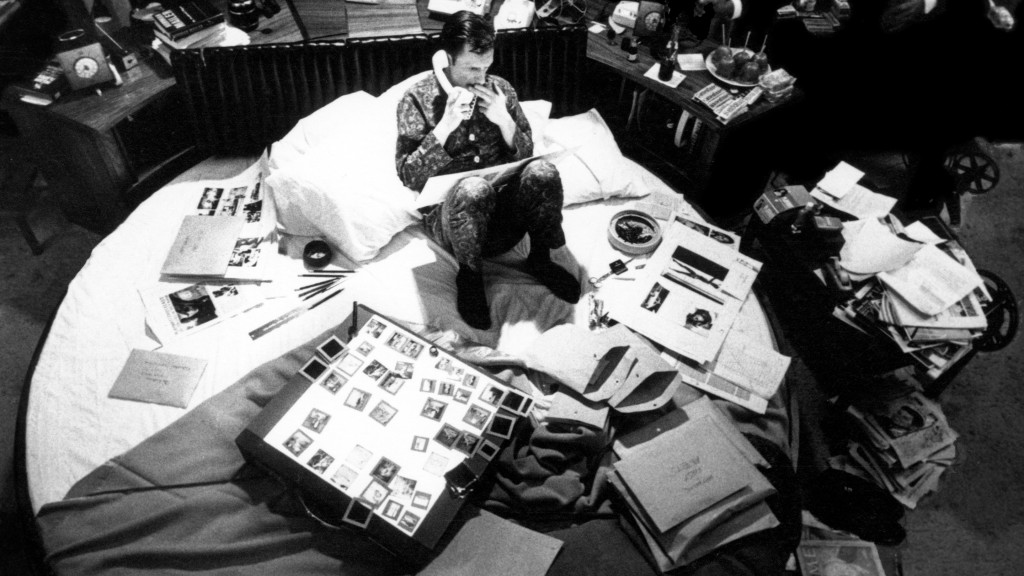 In 1953, playboy founder and editor-in-chief Hugh Hefner set out to publish a sophisticated men's magazine and in turn created a global empire. Six decades later, playboy remains one of the most recognizable brands in the world. ¶ Launched in conservative, post-war America, Hugh Hefner's playboy reflected a progressive approach to sexuality that was nothing less than revolutionary for its time. In the early years of shepherding his nascent magazine, Hefner fought vigorously for both civil rights and First Amendment protections. Along the way helped to usher in the sexual revolution.
Hugh Marston Hefner was born in Chicago on April 9, 1926, the elder son of conservative Protestant parents, Glenn and Grace Hefner, and a direct descendent of Massachusetts Puritan patriarchs William Bradford and John Winthrop. Following graduation from high school in January 1944, Hef (his nickname preferred since adolescence) joined the Army, serving as an infantry clerk and drawing cartoons for various Army newspapers. After his discharge from service in 1946, he attended the University of Illinois, where he earned a bachelor's degree in psychology. This was followed by a semester of graduate courses in sociology at Northwestern University. Pursuing his interest in individual freedoms and invigorated by the then-controversial Kinsey Institute research on human sexuality, he wrote a term paper examining United States sex laws.
In June 1949, Hefner married a classmate, Mildred Williams. Their 10-year marriage produced two children: Christie in 1952 and David in 1955.
Following college, Hef tried his hand at cartooning and, failing to sell any of his ideas for a cartoon strip, published a book of satirical cartoons about Chicago titled That Toddlin' Town. In January 1951, he landed a promising job as a promotion copywriter at Esquireat $60 a week. When Esquire moved its offices to New York, Hef's request for a five-dollar raise was denied. This moment inspired Hefner to start a magazine of his own.
With an $8,000 investment raised from family and friends, including $600 borrowed from a bank using his furniture as collateral, the first issue of playboy was produced on the kitchen table in Hefner's South Side Chicago apartment. The first issue hit newsstands in December 1953 and featured a nude calendar photo of Marilyn Monroe. It sold more than 50,000 copies, enough to pay for the paper and printing costs—and to finance another issue.
Early on in the magazine's history, Hefner provided a platform for controversial writers of the day, including Ray Bradbury's classic novel about book-banning, Fahrenheit 451,and Charles Beaumont's The Crooked Man, which depicted a world in which homosexuality was the norm and heterosexuality was persecuted. In addition, playboypublished many of the most iconic writers of our time including John Updike, Ian Fleming, Joseph Heller, Gabriel Garcia Marques, Margaret Atwood, Jack Kerouac, Alex Haley and Woody Allen.
---
Since 1962, the iconic Playboy Interview has profiled the most notable figures of our time including Miles Davis, Dr. Martin Luther King, George Lincoln Rockwell, Jimmy Carter, Malcolm X, Billie Jean King, Muhammad Ali, Marlon Brando, Dick Cheney, Whoopi Goldberg, Tina Fey and Donald Trump. These will forever remain important reads for cultural historians.
By the beginning of the 1960s, the magazine was selling more than a million copies a month and Hefner, now divorced, began to live out the "good life" depicted in the pages of his publication. He hosted a popular syndicated television show called Playboy's Penthouse, purchased the Playboy Mansion in Chicago and opened the first Playboy Club in Chicago on February 29, 1960. At a time when the country was about to enter a dramatic period of cultural upheaval, Hefner was already pushing the envelope. Up until 1959, the year that Playboy's Penthouse debuted, blacks and whites were not seen socially mixing on television. But Hefner's show, shot in an apartment setting, showed a diverse group enjoying both white and black performers. Hefner would not waver on this concept despite many affiliates, especially in the South, refusing to air the program.
The Playboy Clubs were a huge success and quickly expanded with franchises in other cities. Membership in any single club granted access to every club around the country. When he found out that Playboy Club owners in Miami and New Orleans were refusing entry to African American members, Hefner bought out those franchises–at a considerable loss to the company–and opened the clubs to all.
In 1964, these struggles inspired him to create the Hugh M. Hefner Foundation to recognize and support organizations that advocate and defend civil liberties, with a special emphasis on projects related to First Amendment rights and puritanical sex and drug policies.
By 1971, when the company went public, the magazine was selling seven million copies a month, with 23 Playboy Clubs plus resort hotels and casinos. The company's assets included book publishing, licensing, a modeling agency, a limousine service, a record label and a TV and film company.
---
Throughout the years, Hefner made significant contributions to Hollywood and the film and music community. In 1978, he championed the reconstruction of the world-famous Hollywood sign; he came to the rescue once again in 2010 when he donated $900,000 that was needed for the Trust for Public Land to purchase the property and preserve the 138 acres behind the sign.
Hefner donated $1.5 million to endow the Hugh M. Hefner Chair for the Study of American film at University of Southern California's School of Cinema-Television, as well as $2 million to the USC School of Cinematic Arts to help fund a central exhibition space in its new headquarters and a new archival repository for student films and historic documents. In addition, he has been a major contributor to University of California, Los Angeles's efforts to restore classic films. He made a $1 million donation to the UCLA Film & Television Archive for public screenings of American cinema, establishing the Hugh M. Hefner Classic American Film Program. Over the years, he has produced numerous documentaries including, Lon Chaney: A 1000 Faces, Clara Bow: Discovering the It Girl, Why Be Good? Sexuality & Censorship in Early Cinema and The Girls in the Band.
What began in Chicago in 1959 as a three-day gathering of some of the world's greatest jazz performers in celebration of Playboy's fifth anniversary evolved into the world-renowned Playboy Jazz Festival, which now takes place annually over a two-day weekend at the Hollywood Bowl. This year the festival celebrated its 39th year with performers Common and Corrine Bailey Rae.
Since the beginning, Hefner has been both a social justice advocate and a target of the conservative movement. He has taken on government institutions as powerful as the U.S. Postal Service and the FBI. Such battles, alongside some tragic personal losses, took their toll on Hefner in 1985 when he suffered a stroke that would change the direction of his life. In 1989, he married Kimberley Conrad, Playboy's 1989 Playmate of the Year. The marriage produced two sons, Marston Glenn and Cooper Bradford, who is now Chief Creative Officer of playboy. The couple separated in the late 1990s and divorced in 2010.
---
Over the years, Hefner has been profiled by many major print news and entertainment outlets including The New York Times, Esquire, Vanity Fair, The Hollywood Reporter, Variety and London Times. In 2008, he was the subject of a comprehensive biography written by Steven Watts, Mr. Playboy: Hugh Hefner and the American Dream and in 2009, Taschen published Hugh Hefner's Playboy, a six-volume illustrated autobiography with highlights from Playboy's first 25 years. Other profiles include A&E's Hugh Hefner: American Playboy–a two hour special that was part of A&E's Biography series; Hugh Hefner: Once Upon a Time, the 2009 documentary Hugh Hefner: Playboy, Activist and Rebel from Academy Award winning documentarian, Brigitte Berman and Amazon's docuseries American Playboy, released this year.
Hef has appeared as himself in numerous television shows and movies including Saturday Night Live, Entourage, Sex and the City, Curb Your Enthusiasm, The Simpsonsand The House Bunny. In 2005 Hefner was one of the first major celebrities to be featured in a reality show. For six seasons, E! Entertainment's The Girls Next Door was a behind-the scenes look at the Playboy Mansion featuring Hef and his girlfriends. The series became one of E!'s top rated programs and an international sensation, airing in more than 150 countries.
A recipient of many awards for his contributions to media, Hefner received the 1996 International Publishing Award from the International Press Directory in London and in 1998 was inducted into the Hall of Fame of the American Society of Magazine Editors. In 2002, he received the Henry Johnson Fisher Award, the highest honor of the Magazine Publishers of America. In 2010, he received both the Award of Honor and the First Amendment Award from the prestigious PEN Center USA organization. Hefner also has a star on the Hollywood Walk of Fame, located at 7000 Hollywood Blvd.
Other organizations that have honored Hefner include the NAACP, the ACLU, the New York Friars Club, The Thalians, Hollywood Chamber of Commerce (including his own star on the Hollywood Walk of Fame), The Los Angeles Press Club, Newseum and the Harvard Lampoon.
In addition to the long list of awards, Hefner is a two-time Guinness Book of World Records holder: one for being the longest running editor of a magazine and the other for having the largest scrapbook collection, which currently consists of more than 2,900 volumes.
On New Year's Eve 2012, Hugh Hefner married Playboy Playmate Crystal Harris in a private ceremony.
He has frequently been quoted as believing that the United States' most important export is "the American Dream." Hugh M. Hefner served as the magazine's editor-in-chief until he passed away on September 27, 2017.